DRÓTTSKÁTAR
Skátar á aldrinum 13-15 ára nefnast dróttskátar. Það er frábært að taka þátt í dróttskátastarfi, 5-7 vinir mynda flokk sem hittist einu sinni til tvisvar í viku og undirbýr eða framkvæmir verkefni sem hópinn langar til að vinna að – flóknara er það nú ekki.
Dróttskátasveitin í Kópum
DS. Andrómeda
Þriðjudaga 20:00 – 22:00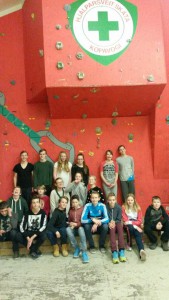 Við skátarnir vitum að fólk lærir af reynslunni og að það er miklu skemmtilegra að læra með því að vinna verkefni sem maður hefur valið og undirbúið sjálfur en þegar einhver segir manni hvað eigi að gera.
Við leggjum áherslu á að unglingar prófi nýja hluti, nemi ný lönd og víkki sjóndeildarhringinn í hópi jafnaldra. Verkefnin hafa tilgang, því þó þau séu spennandi og skemmtileg, eru þau einnig leið skáta til að auka þekkingu og færni og búa skátana undir lífið.
Við erum fullviss um að unglingum finnst mikilvægt að vera sjálfstæðir, virkir og ábyrgir – og að þeir hafa gaman af félagsskap jafnaldra sem bera virðingu fyrir náttúrunni og fara saman í ferðir og útilegur – þess vegna er dróttskátastarf fyrir unglinga eins og þig.="left">
Dæmi um viðfangsefni dróttskáta
Vefsíðugerð
(Tækni og vísindi)
:
Það er hægt að halda skátafundi hvar sem er og hvenær sem er. Skátafundir á netinu eru ekki nýjir af nálinni. Sveitinn eða flokkurinn vill einnig hafa sinn eigin vettvang þar sem hann getur sýnt frá starfinu sínu. Geymt gögn og miðlað upplýsingum.
Nánari lýsing:
Markmið:
Að skátarnir öðlist þekkingu í vefsíðugerð.
Að skátarnir setji upp vefsíðu og haldi henni virkri í að minnsta kosti ár.
Sveitin stofnar heimasíðu, sniðugt er ef hægt er að fá undirsíðu á heimasíðu skátafélagsins t.d. www.skatafelag.is/nafnflokksins en það er ekki víst að það sé hægt en það er nokkuð hægt um vik í dag að stofna heimasíðu í formi bloggsíðu. Ekki þarf að hafa neina þekkingu í heimasíðu gerð eða annað þvíumlík heldur einungis grunnþekkinug á netinu. Að neðan eru tenglar á tvö handhægustu blogghýslana; WordPress og Blogspot
Á heimasíðunni getið þið birt nöfn meðlima, helstu upplýsignar um sveitina, dagskrá sveitarinnar, ferðasögur, myndir, myndbönd, nýjust fréttir og margt margt fleira.
Önnur útfærsla af þessu verkefni gæti verið á þann hátt að sveitin eða flokkurinn taki að sér að sjá um heimasíðu skátafélagins í einhvern ákveðinn tíma eða einhvern ákveðinn part af henni. Sendi inn einu sinni í viku kynningu á flokksmeðlimum í viðtalsformi eða eitthvað álíka. Einnig gætu þið gerst ljósmyndarar fyrir síðuna og tekið myndir af því sem er að gerast og sett þær á síðuna.
Endilega talið við Herstein í tölvupósti (hersteinn@kopar.is) og hann getur gefið ykkur verkefni.
Bicycle tours and tourism (Nativity): Cycling between places is an environmentally friendly and cheap way to travel. Here are ideas on what to do on wheels.
More specific description:
The squad:
Bike touring is fun so the group organizes and embarks on a fun and challenging bike ride. Next time the group is going on a cabin trip, it is ideal to cycle to your destination. It only takes two hours to cycle fifteen to twenty kilometers in the countryside.
The local council organizes a camping trip where you cycle to your destination and back home.
When planning a bike ride where the intention is to stay overnight at a destination, whether it is a cabin or a tent, it is a good idea to get someone to transport the group's luggage to the destination and to pick it up again when you go home.
The group:
The individual:
Engages in mountain biking or something similar in an organized way. Participates in a cycling trip where you cycle at least two demanding day routes.
Bicycle meeting: Before going on long bike rides, it is necessary to make sure that everyone is on decent bikes. Have the scouts show up with their bikes at a scout meeting and go over them and point them out if something needs fixing, reflectors, tire pressure, braking equipment and the like.
If you do not have enough knowledge in this area, you may want to go to the nearest police station and ask them to check the wheels and point out what is good and what could be done better.
Cycling Courses:
If you have bikes at a meeting and want to use them a little more, it is easy to set up a small bike course. Then let the scouts compete with each other in cycling puzzles.
Lay two spears (poles can also be suitable) on the ground, keeping the gap between them no more than so that a wheel can get between them. Then the scouts compete to see who can be the longest on the way through the spears. It is forbidden to put your feet down and you must not help the person on the track. This tests the balance and patience of the scouts.
Speed track:
Lay a track with some kind of obstacle (you can use the scout necker or whatever you have at hand) Keep the track so that you can ride between the obstacles. Then the scouts compete over who is the fastest to bracket around the obstacles.
You can then of course invent any puzzle you can think of depending on the subject and situation, maybe there is an ideal puzzle in the immediate vicinity of you then of course you click there.
Remember that it is legal for individuals under the age of 15 to wear a helmet when cycling, but you should always use a helmet!
Materials and utensils:
Bicycle, helmet, when you go on long journeys, make sure you have a repair kit with you. Many things can go wrong, but most should be able to be repaired on site if you have a simple repair kit on hand. Also remember the wheel pump.
Time capsule
(Community)
: Time capsules are capsules that are buried in the ground and contain information about the present. If the capsules are found so long later, the people of the future can get a sniff of the past!
More information:
The group prepares a time capsule and buries it in the ground, e.g. during the construction of a new scout cabin or scout home. You can also dig it in a different place, make a map where you mark the place and paste it on the back of the picture of Baden-Powell in the scout home and wait for future scout generations to find it.
Making the capsule:
Use containers made of materials that do not degrade in nature, such as plastic, metal or strong rubber. You can use a kitchen container, lunch box, metal box with a lock, as long as moisture does not get into the contents. It is good to seal the joints with silicone putty.
Contemporary differences:
When choosing small items for the capsule, it's fun to put together things from contemporary scout work, such as club logos or from events, scarves, knots, utensils, brochures, convention books, and more. It is also fun to post photos of the party members and write personal greetings to the people of the future.
Other contemporary objects that could have historical value later on are, for example:
Newspaper clippings: the main news of the year.
Pictures of today's technology (cars, computers, telephones and other rapidly evolving and changing things).
Fashion: something that says about today's fashion, pictures or little things.
Stamps
Receipts from stores (to see price changes for necessities).
Music
Tools and equipment:
Lunchbox or other plastic or metal box
silicone putty
Contemporary differences
Bjargsig
(Earthly activities)
: Mountainabseiling is an object that is related to jumping, rock climbing, indoor climbing, ice climbing and similar adventures. Descending rocks is something that has been practiced for centuries in Iceland. Farmers spend a lot of time in the cliffs to lay eggs and in many parts of the country it is still practiced. The basic equipment has been the same for many years, but the safety equipment available today is much more extensive.
More information:
Abseiling is a fairly old phenomenon in Iceland where it sinks to eggs. It is also used in the rescue operations of the Coast Guard's rescue squad and helicopter rescue squad.
The squad practices rock climbing with the aim of making party members familiar with rock climbing. Although the name of this project refers to the fact that it should rescue people by abseiling down the rocks, it is not necessarily necessary. The equipment that exists today is of such a nature that it is possible to step down from almost anything.
The party needs to find out the appropriate equipment and it needs to be in order. Then, of course, you need to find a rock or something suitable nearby that is of a nature that everyone in the countryside can spray themselves on. Regarding the equipment needed, there is a possibility that someone in your ward has the necessary equipment. It may also be possible for your scout club to have the necessary equipment, but if not then it is quite certain that rescue teams in the vicinity of you have the equipment available.
In a rock fall, it is essential that you do not go too far in the project, but start small and tackle bigger challenges as your interest and ability allow. Start by descending heights that everyone in the party trusts, but also be prepared for the fact that party members will be quick to take control and try to ensure that everyone gets to a challenge that is suitable.
Assignment:
Descend a 15 meter rock wall with a sieve. Every individual in the village should have gained so much experience in rock climbing that he can assist other scouts who are beginners and should know the equipment that needs to be used and the safety requirements that are made for rock climbing.
Scouts at this age should never be allowed to descend unless at least three experienced leaders are with them. One helps the scouts into the belt and takes care of tightening it, another fastens the scouts to the line and helps them over the edge and the third takes care of securing from below.
Time:
If you have prepared this project well, it is possible to complete the project in one meeting. 70 – 80 minutes should suffice. But as mentioned before, prepare well, find a suitable location, make sure that all the equipment is there and that the scouts come to the meeting place where you are going to descend or that it is a short walk from the scout house. Use the party meeting to introduce the basics to the party and try to make sure that as many people as possible have the basics clear after the meeting.
Utensils and equipment:
Siglína
sigátta
helmet
Seat belt / climbing belt
Venturer Scouts Kópa is Andrómeda
The Ventura Scouting squad Andrómeda has their meetings on Thursdays at 20:00 - 22:00.